ACCESS

Shirakawago
Access
Information Shirakawa-go is located about 1,5 hour by highway bus from Kanazawa and Toyama, and about 3 hours from Nagoya.
Since there is no train transportation in Shirakawago, if you wish to ride the train you may take the bus from Shirakawago to nearest train station such as Kanazawa or Takayama city.

Get to the charming World Heritage site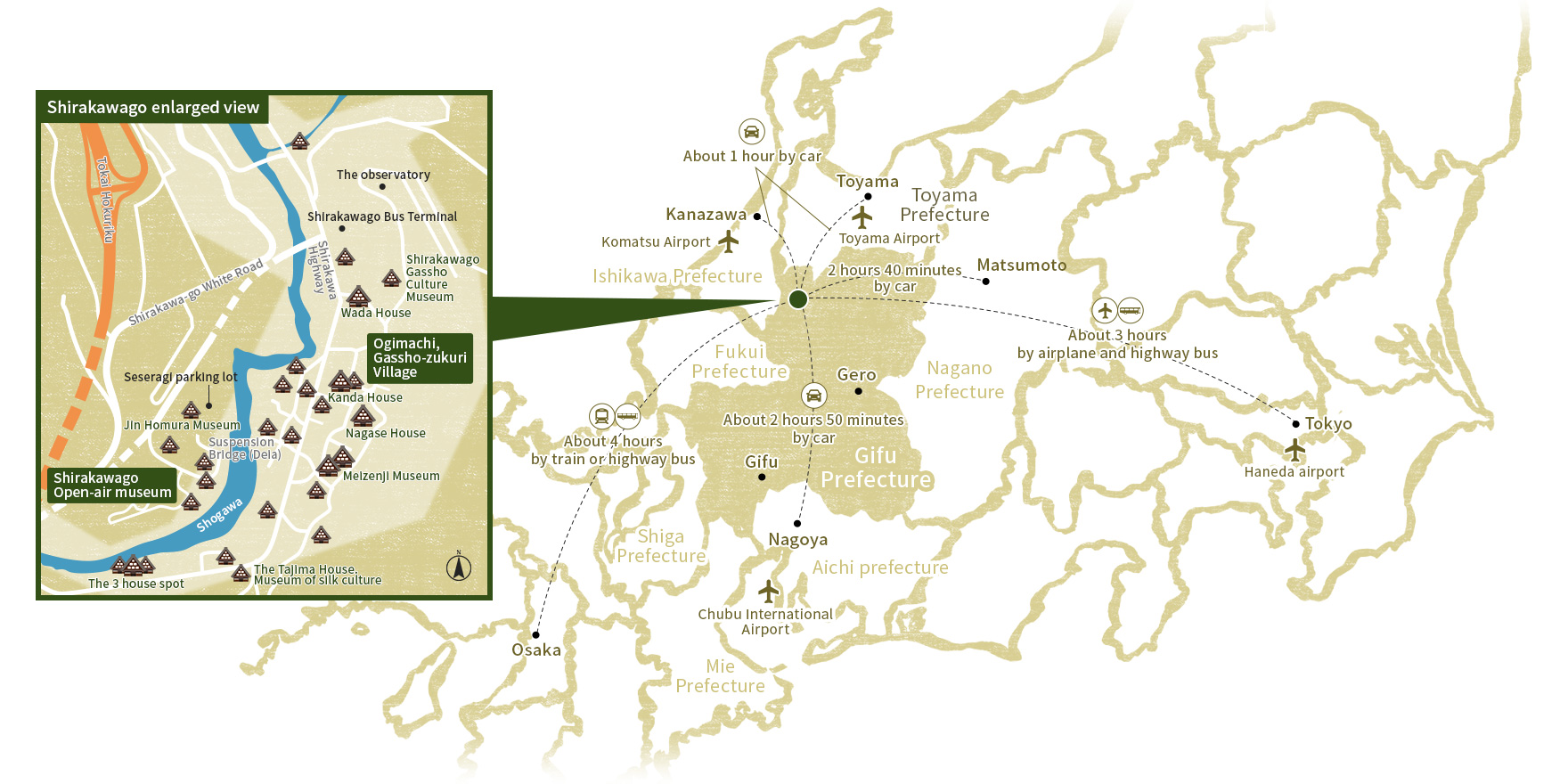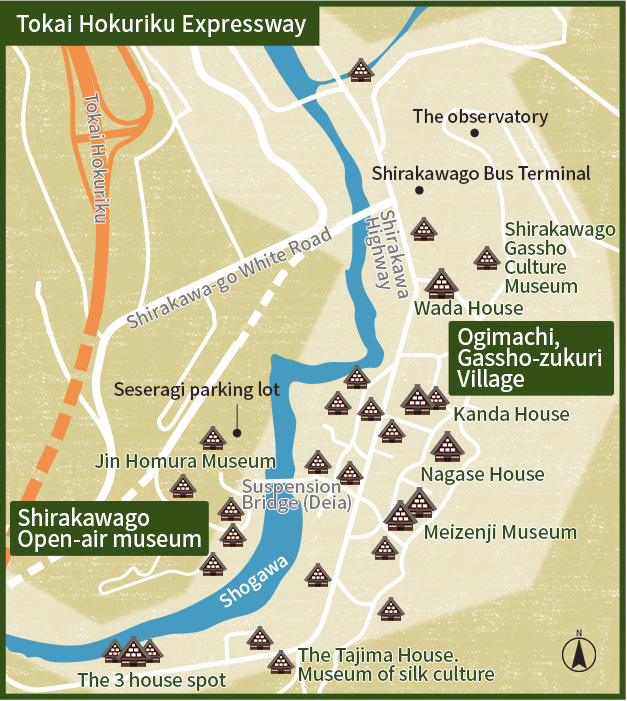 ROUTE
Route to Shirakawa-go
For those coming by car
Kanazawa areaTime required
About 1 hours 10 minutes
Hokuriku Expressway
About 1 hours 5 minutes
Shirakawago IC
National Route 156
About 5 minutes
Hida Shirakawa-go
Toward NagoyaTime required
About 2 hours 15 minutes
Tokai Hokuriku Expressway
About 1 hours 30 minutes
Shogawa IC
National Route 158 to Route 156
About 45 minutes
Hida Shirakawa-go
Toward OsakaTime required
About 4 hours
Meishin Expressway
About 2 hours
Ichinomiya JCT
Tokai Hokuriku Expressway
About 1 hours 20 minutes
Shogawa IC
National Route 158 to Route 156
About 45 minutes
Hida Shirakawa-go
Toward TokyoTime required
About 5 hours 15 minutes
Chuo Expressway
About 2 hours 20 minutes
Okaya JCT
Nagano Expressway
About 40 minutes
Matsumoto IC
National Route 158 to Tokai Hokuriku Expressway
About 2 hours 10 minutes
Shirakawago IC
National Route 156
About 5 minutes
Hida Shirakawa-go
Parking lot information
All vehicle please use the "Serasegi Park Parking Lot".
In case of congestion, the staff will guide you to the "Midashima Park Parking Lot" or "Terao Temporary Parking Lot".
About Seseragi Park Parking
Capacity
[Large-sized vehicles] Approximately 40 cars. [Standard vehicles] Approximately 200 cars. ※Motorcycles parking available
Parking Fee
[Bus/Microbus] 3,000 yen. [Ordinary car] 1,000 yen. [Motorcycle] 200 yen
Open hours
8:00 ~ 17:00
Route
Route from "Shirakawago IC" on the Tokai Hokuriku Expressway drive to village direction, follow road sign to "Seseragi Park Parking Lot"
Notice

・From Seseragi parking lot, take 2 minutes walk across the "suspension Bridge" to get to the World Heritage Village.

・(If) There are many large vehicles (buses) during autumn season, the number of ordinary vehicles parking space may be reduced and adjusted.

・For the Light-up event days, parking reservation is required for all vehicle. Buses are allowed to use the parking from 17:00. For ordinary cars have to move from Seseragi parking lot to the Terao temporary parking lot by 15:00. See Announcements&Events for more information.

・Part of the parking fee will be use for "The World Heritage Site's preservation work"
Those coming by train/highway bus
Kanazawa StationTime required
About 1 hours 30 minutes
Express bus
About 1 hours 20 minutes
Shirakawago Bus Terminal
On foot
About 1 minute
Hida Shirakawa-go
Nagoya StationTime required
About 2 hours 50 minutes
On foot
About 5 minutes
Meitetsu Bus Center
Express bus
About 2 hours 30 minutes
Shirakawago Bus Terminal
On foot
About 1 minute
Hida Shirakawa-go
Nagoya StationTime required
About 3 hours 25 minutes
JR Limited Express Wide View Hida
(Also available from Osaka and Toyama)
About 2 hours 20 minutes
Takayama Station
Express bus
About 50 minutes
Shirakawago Bus Terminal
On foot
About 1 minute
Hida Shirakawa-go
Osaka stationTime required
About 4 hours 15 minutes
JR Limited Thunderbird
About 2 hours 40 minutes
Kanazawa Station
Express bus
About 1 hours 20 minutes
Shirakawago Bus Terminal
On foot
About 1 minute
Hida Shirakawa-go
Tokyo StationTime required
About 4 hours
Hokuriku Shinkansen
About 2 hours 15 minutes
Toyama Station
Express bus
About 1 hours 20 minutes
Shirakawago Bus Terminal
On foot
About 1 minute
Hida Shirakawa-go
For those arriving by plane
Toward TokyoTime required
About 2 hours 55 minutes
Airplane
About 1 hours
Toyama Airport
Local bus
About 20 minutes
Toyama Station
Express bus
About 1 hours 20 minutes
Shirakawago Bus Terminal
On foot
About 1 minute
Hida Shirakawa-go
Toward TokyoTime required
About 3 hours 15 minutes
Airplane
About 1 hours
Komatsu Airport
Komatsu Airport Limousine Bus
About 40 minutes
Kanazawa Station
Express bus
About 1 hours 20 minutes
Shirakawago Bus Terminal
On foot
About 1 minute
Hida Shirakawa-go
Toward FukuokaTime required
About 3 hours 15 minutes
Express bus
About 1 hours 30 minutes
Komatsu Airport
Komatsu Airport Limousine Bus
About 40 minutes
Kanazawa Station
Express bus
About 1 hours 20 minutes
Shirakawago Bus Terminal
On foot
About 1 minute
Hida Shirakawa-go